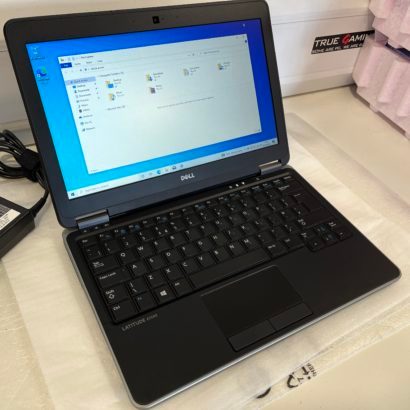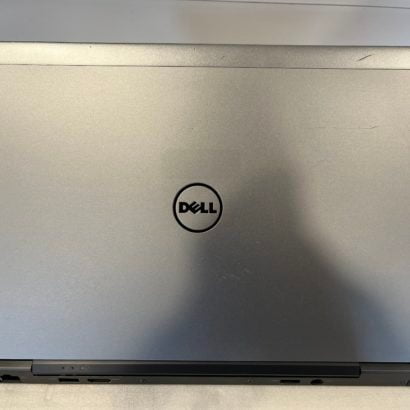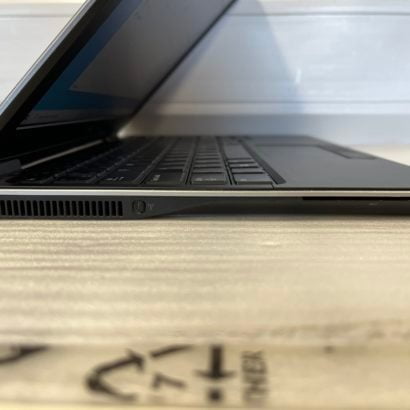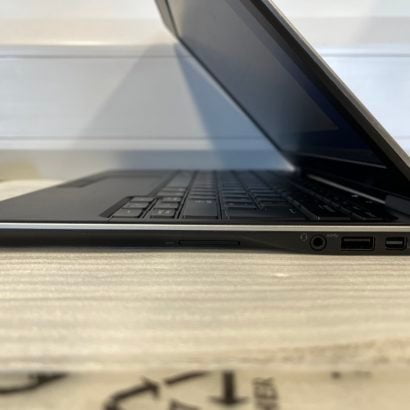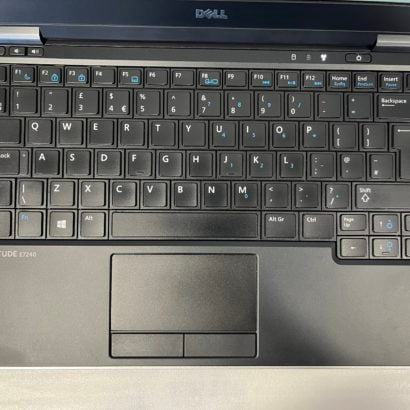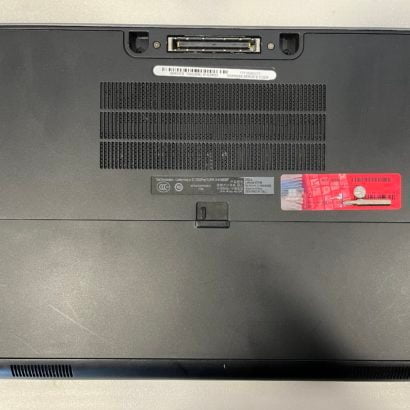 Dell Latitude E7240 i3-4030u laptop 128GB SSD 4GB Ram 12.5″ Windows 10 HDMI
Dell Latitude E7240 i3-4030u laptop – Professionally refurbished.
12-month warranty included for peace of mind.
1 in stock
Dell Latitude E7240 i3-3040u laptop – Professionally refurbished
This Dell Latitude E7240 has been professionally refurbished by our in-house tech team, each laptop comes with a fresh 100% legitimate install of Windows 10 ensuring your new laptop is not slowed down by bloat wear or unnecessary manufacturer apps.
Dell's Latitude E7240 is a neat and powerful business-grade 12.5-inch ultrabook with plenty of configuration options. Powered by fourth-generation Intel Core (Haswell) processors, you can expect a decent combination of performance and battery life
DESIGN
The Latitude E7240 is designed to handle the kind of treatment a notebook gets in a mobile professional's travel bag. The chassis is metal on the top with a metal band around the edge of the bottom section to help protect the corners, in particular, from knocks. Elsewhere, the bottom, wrist rest and screen bezel are made from solid, thick plastic.
The Dell Latitude E7240 is a curate's egg of an ultrabook. It's solidly made and well connected, with impressive performance and excellent audio output. It also benefits from a cable-conscious attitude to the arrangement of ports and connectors.
Sound quality is particularly good, with unusually deep bass tones; you can also actually hear stereo effects from the laptop itself. Volume is loud, and the bass distortion at higher volume is, for a notebook, minimal: Dell has delivered the best sound we've heard from a notebook in a long time. Presentations involving music content could easily be delivered direct to a small audience using the Latitude E7240.
Dell Latitude E7240 Specifications:
Quality: Refurbished [B]
Screen Size: 12.5″ 1366×768
Processor: i3-4030u @ 1.9
CPU Generation: 4th Gen
AC Adapter: Yes
CD/DVD Drive: No
WiFi: Yes
O/S: Windows 10 Home
CoA: Windows 8 Home
Memory: 4GB DDR3
Battery: Good
USB Ports: 3x 3.0 / HDMI / Mini DisplayPort
Storage Drive: 128GB SSD
Storage Drive (2): X
Graphics: Intel HD
Webcam: Yes
Additional:
Please note the following faults/Information: X None Reported
---
---
This laptop comes with 12 Month Warranty for peace of mind.
Our 12-month warranty does not cover damage caused by the user, we cannot accept returns for water-damaged items etc. ALL returned laptops will be tested once received if it cannot be repaired we will either provide a laptop of the same value and spec or provide a refund unless we believe the damage is not within our warranty guidelines.
We want you to be happy so please do contact us with any questions or queries you may have.
Refurbished laptops
Why buy new, when a certified refurbished machine is cheaper and comes with better service and support? We believe that buying a refurbished laptop can be sometimes a risky business. Yet buying new just means more perfectly servicable machines head for landfill! That's why Preloved Laptops supply Refurbished Laptops and Desktop Computers for fast UK delivery. We always provide a 12 Month Warranty with every laptop purchase, and strive to ensure all of our customers are happy with their purchase.
When buying a refurbished laptop, please bear in mind that the laptop will show signs of wear etc. If they are significant we will always state what the issue's if any are present as well as photos in the product gallery. PLEASE ensure you read the whole description for peace of mind or contact us via our contact form.
Preloved Laptops provide UK, European & International Delivery, and additionally offer same day dispatch for all orders confirmed before 11:30am. With a 12 month warranty on all refurbished laptops, and a 30 day no quibble, easy returns service, Preloved Laptops strives to build a long term relationship with its customers.
Prelovedlaptops.co.uk FAQ's
Do you need a website to accompany your business?
| | |
| --- | --- |
| Graphics Processing Type | Integrated/On-Board |
| SSD Capacity | 128 GB |
| Storage Type | SSD (Solid State Drive) |
| Laptop Type | Notebook/Laptop |
| RAM Size | 4 GB |
| Processor | Intel Core i3 4th Gen. |
| Screen Size | 12.5 in |
| Operating System | Windows 10 |
| Model | Dell Latitude E7240 |
| Laptop Brand | Dell |